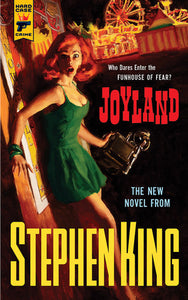 Joyland (Used Paperback) - Stephen King
College student Devin Jones took the summer job at Joyland hoping to forget the girl who broke his heart. But he wound up facing something far more terrible: the legacy of a vicious murder, the fate of a dying child, and dark truths about life - and what comes after - that would change his world forever.

A riveting story about love and loss, about growing up and growing old - and about those who don't get to do either because death comes for them before their time. It is at once a mystery, a horror story, and a bittersweet coming-of-age novel, one that will leave even the most hard-boiled reader profoundly moved.
0725SR
---