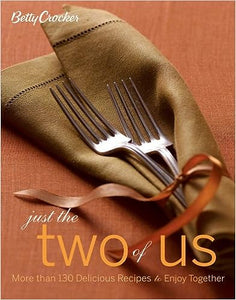 Just The Two of Us (Used Hardcover) - Betty Crocker
There's nothing better than sitting down to a relaxed, delicious meal for just the two of you. But when you're no longer cooking for a crowd, most of your favorite recipes leave you with too many leftovers. Betty Crocker comes to the rescue with this all-new cookbook. It's packed with fresh and fabulous recipes that deliver all the flavor and variety of a big meal, but in amounts that make sense for just the two of you. So set the table for two--and enjoy!

Fall in Love with These Tempting Dishes for Just the Two of You to Enjoy Together
* Shrimp Toasts
* Slow Cooker Tuscan Bean Soup
* Teriyaki Beef Sandwiches
* Garden-Fresh Greek Salad
* Asparagus Parmesan
* Sole Provencale
* Southwest Herb Flank Steak
* Grilled Pork Tenderloin with Pineapple Salsa
* Chicken and Penne Primavera
* Southwest Tamale Tart
* Sauerbraten Meatballs
* Buttermilk Cornbread
* Raspberry-Chocolate Muffins
* Cherry Cobblers for Two
* Chocolate-Chocolate Chip Cookies
* and many more!
0731RT
---