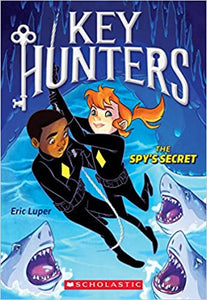 Key Hunters # 2: The Spy's Secret (Used Paperback) - Eric Luper
Getting lost in a good book has never been this dangerous!
Cleo and Evan have a secret. A collection of books so dangerous they are locked up tight. A friend has vanished inside the pages of one of them. It's up to them to find the key that will set her free. A SPY MUST BE READY FOR ANYTHING! Agents Cleo and Evan have been given an impossible mission: become super-spies and foil the plans of an evil mastermind. But it won't be easy to break into the Viper's secret underwater lair, complete a daring rescue, find the right key, and get out alive!
0716CM

---