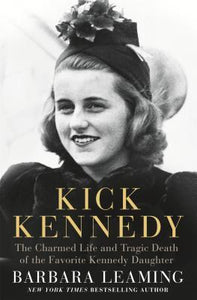 Kick Kennedy: The Charmed Life and Tragic Death of the Favorite Kennedy Daughter (Used Book) - Barbara Leaming
Kathleen 'Kick' Kennedy was the incandescent life-force of the fabled Kennedy family, her father's acknowledged 'favorite of all the children' and her brother Jack's 'psychological twin.' She was the Kennedy of Kennedys, sure of her privilege, magnetically charming and somehow not quite like anyone else on whatever stage she happened to grace.

The daughter of the American ambassador to the Court of St. James's, Kick swept into Britain's aristocracy like a fresh wind on a sweltering summer day. In a decaying world where everything was based on stultifying sameness and similarity, she was gloriously, exhilaratingly different. Kick was the girl whom all the boys fell in love with, the girl who remained painfully out of reach for most of them.

To Kick, everything about this life was fun and amusing--until suddenly it was not. For this is also a story of how a girl like Kick, a girl who had everything, a girl who seemed made for happiness, confronted crushing sadness. Willing to pay the price for choosing the love she wanted, she would have to face the consequences of forsaking much that was dear to her.
Hardcover
---