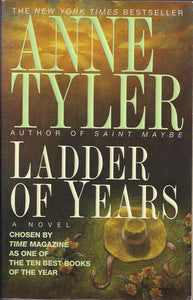 Ladder of Years (Used Book) - Anne Tyler
A NEW YORK TIMES NOTABLE BOOK
BALTIMORE WOMAN DISAPPEARS DURING FAMILY VACATION, declares the headline. Forty-year-old Delia Grinstead is last seen strolling down the Delaware shore, wearing nothing more than a bathing suit and carrying a beach tote with five hundred dollars tucked inside. To her husband and three almost-grown children, she has vanished without trace or reason. But for Delia, who feels like a tiny gnat buzzing around her family's edges, "walking away from it all" is not a premeditated act, but an impulse that will lead her into a new, exciting, and unimagined life . . . .
Paperback
---