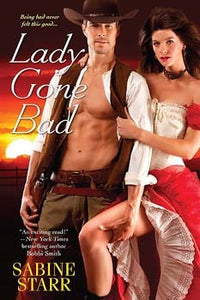 Lady Gone Bad (Used Book) - Sabine Starr
The saloon singer known as "Lady Gone Bad" is the most drop-dead gorgeous outlaw the West has ever seen. Lady has never met a cowboy she couldn't entice, or a lawman she couldn't outrun. But when Lady tangles with a sexy U.S. Marshall, she's tempted to stick around long enough to watch him lay down the law - in her bed.

U. S. Marshall Rafe Morgan wants to lock up Lady Gone Bad for good - and he won't let his attraction to her slow him down. But when his attempt to bring Lady to justice goes awry, Rafe is nearly hanged - and by dawn, his face is plastered next to hers on every "Wanted" poster in Texas.

Now on the run together, Rafe and Lady find themselves in very close quarters - and even more compromising positions. As Lady surrenders to Rafe's touch, she slowly begins to reveal all her secrets - including her real name. Maybe "Lady Gone Bad" isn't beyond redemption after all. Either way, Rafe is in for one wild ride... 
Hardcover
1018ML
---