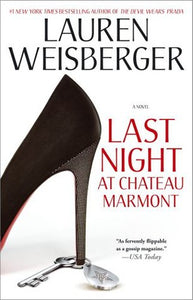 Last Night At Chateau Marmont - Lauren Weisberger
From the New York Times bestselling author of The Devil Wears Prada, a compulsively readable novel about a woman whose struggling singer-songwriter husband is catapulted to fame, dragging them both onto the pages of celebrity gossip magazines—and changing their marriage forever.

Brooke loved reading the dishy celebrity gossip rag Last Night. That is, until her marriage became a weekly headline...

For five years, she's worked two jobs to support her husband's dream of making it in the music world. Finally, after countless gigs at Manhattan dive bars and toiling as an A&R intern, the soulful, enigmatic Julian Alter gets signed by Sony, where he logs long hours in the recording studio with no promise of success. But when he is invited to perform on a national late-night talk show, he is catapulted to stardom—literally overnight.

At first the newfound fame is fun—who wouldn't want to stay at the Chateau Marmont or love being treated like rock royalty? But as Brooke's sweet husband becomes increasingly absent and tabloid rumors swirl, Brooke begins to question the truth about their marriage and is forced to finally come to terms with what she thinks she wants—and what she actually needs. 
Paperback
0907ML
---