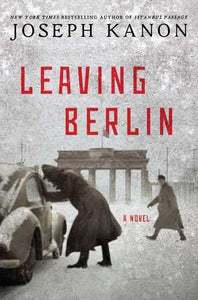 Leaving Berlin (Used Hardcover) - Joseph Kanon
A sweeping spy thriller about a city caught between political idealism and the harsh realities of Soviet occupation.

Berlin, 1948. Almost four years after the war's end, the city is still in ruins, a physical wasteland and a political symbol about to rupture. In the West, a defiant, blockaded city is barely surviving on airlifted supplies; in the East, the heady early days of political reconstruction are being undermined by the murky compromises of the Cold War. Espionage, like the black market, is a fact of life. Even culture has become a battleground, with German intellectuals being lured back from exile to add credibility to the competing sectors.

Alex Meier, a young Jewish writer, fled the Nazis for America before the war. But the politics of his youth have now put him in the cross-hairs of the McCarthy witch-hunts. Faced with deportation and the loss of his family, he makes a desperate bargain with the fledgling CIA: he will earn his way back to America by acting as their agent in his native Berlin. But almost from the start things go fatally wrong. A kidnapping misfires, an East German agent is killed, and Alex finds himself a wanted man. Worse, he discovers his real assignment — to spy on the woman he left behind, the only woman he has ever loved. Changing sides in Berlin is as easy as crossing a sector border. But where do we draw the lines of our moral boundaries? At betrayal? Survival? Murder?

Joseph Kanon's compelling thriller is a love story that brilliantly brings a shadowy period of history vividly to life.
0627SR
---