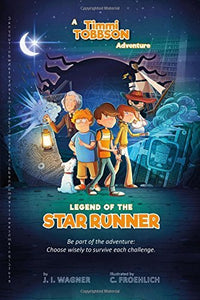 Legend of the Star Runner: A Timmi Tobbson Adventure (Used Hardcover) - J. I. Wagner
Unravel 'solve-them-yourself picture mysteries' and uncover the Legend of the Star Runner!

Following the clues concealed within a centuries-old family legacy, Timmi Tobbson and his friends hope to save a dear friend. But only twenty-four hours remain to unravel the legend of a long-lost pirate ship, buried somewhere deep beneath the city streets. Unbeknownst to them, their search awakens a mystical dark power, sworn to protect what is hidden on board the once famous Star Runner.

Mysteries to Solve

The adventure is divided into 31 concise chapters, each of which ends with a puzzle to be solved by finding and interpreting visual clues concealed within a beautiful color illustration. Suited for explorers and sleuths young and old. Children under 8 years may need assistance in solving some of the puzzles. Grade level: 3rd and up.
0713DS
---