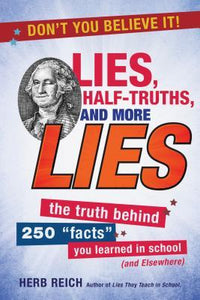 Lies, Half-Truths, and More Lies (Used Book) - Herb Reich
History is replete with stories of great people and extraordinary events that either never happened or didn't happen the way we were told they did. Such news or embellishment thereof are part of what we consider common knowledge – information taught in schools and passed down to us. And they are wrong. How about these gems:

The winter of 1777-78 was the coldest winter in Valley Forge in years, and many Continental soldiers died from the sub-zero weather: LIE
Mohandas Gandhi held a lifelong belief in nonviolence, that characterized the struggle for Indian independence: LIE
The atomic bombings of Hiroshima and Nagasaki were the mostr destructive air strikes against Japan during World War II: LIE
Lies, Lies, and More Lies is a humorous, witty, and charming collection of anecdotes surrounding history, pop culture, and more. It is a book that will have readers questioning what they've learned or been told and, for these 250 facts anyway, the book advises you: Don't You Believe It! 
Paperback
1021WS
---