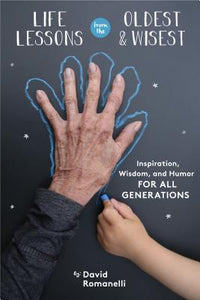 Life Lessons from the Oldest Wisest: Inspiration, Wisdom, and Humor for All Generations (Used Hardcover) - David Romanelli
Let wellness innovator "Yeah Dave" (featured in The New York Times and O, The Oprah Magazine) share the experience of our elders, a mix of history, wisdom, and joie de vivre, which is our most precious resource.

Elder Americans in their eighties, nineties, and even hundreds, have survived the Holocaust, endured the Great Depression, fought in World War II, lived through the Civil Rights Movement, and endured countless booms and busts. And yet, unlike other parts of the world where elders are respected and revered, so many American elders tend to be lonely and feel irrelevant, without a voice or presence in American culture.

The elders need our attention and love—and we need their stories and wisdom. The table of contents includes:

FEEL YOUNG FOREVER
HOW TO HEAL YOUR RELATIONSHIPS
BE HAPPY (RIGHT THIS SECOND)
CHERISH YOUR MARRIAGE (BEFORE IT'S TOO LATE)
THE CURE FOR LONELINESS
"SCREW," LAUGH, CELEBRATE (EVEN AT FUNERALS)
HOW TO FIND MORE TIME
FEEL INSTANTLY SUCCESSFUL
AND MORE!

Dave Romanelli is on a journey to meet and listen to the stories of Americans who have seen (and lived) it all! One person he met is a 103-year-old who began driving a horse and buggy, then a Model A Ford, and now a yellow Smart Car, who says, "The first hundred years were the hardest. Everything after that is a breeze." Another new friend is a ninety-year-old who lost four grandparents, both parents, and three siblings in Auschwitz, and is a reminder to all of us to wake up and be grateful.

This is a small book that will have a powerful impact! 
0717RT

---