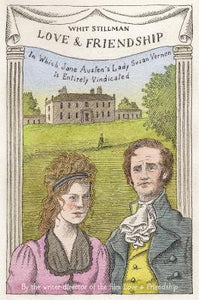 Love & Friendship (Used Hardcover) - Whit Stillman
A fun treat for Jane Austen and Whit Stillman fans alike
Impossibly beautiful, disarmingly witty, and completely self-absorbed: Meet Lady Susan Vernon, both the heart and the thorn of Love & Friendship. Recently widowed with a daughter who's coming of age as quickly as their funds are dwindling, Lady Susan makes it her mission to find them wealthy husbands--and fast. But when her attempts to secure their futures result only in the wrath of a prominent conquest's wife and the title of 'most accomplished coquette in England', Lady Susan must rethink her strategy. Unannounced, she arrives at her brother-in-law's country estate. Here she intends to take refuge - in no less than luxury, of course - from the colorful rumors trailing her, while finding another avenue to 'I do'. Before the scandalizing gossip can run its course, though, romantic triangles ensue.
0919ML
---