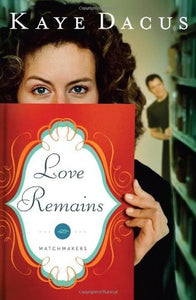 Love Remains - Kaye Dacus
Can the historian learn to leave the past in the past?

Zarah Mitchell, who's worked at the Middle Tennessee Historic Preservation Commission for more than a decade, is about to face a piece of history that could ruin the life she's built in Nashville: Bobby Patterson--her first love and the reason her father kicked her out fourteen years ago.

Nashville native Bobby Patterson has just returned home after many years away to take a position with the Tennessee Criminal Investigations Unit. His new job: lead a task force investigating potential real estate fraud connected with the Commission.

When Bobby realizes Zarah is part of his investigation, he is tempted to use his grandmother's not-so-subtle setup as a way to learn if Zarah is involved in the fraud.

Zarah, at her grandmother's suggestion, tries to put the pain from the past aside to see if any love remains between her and Bobby. But when she learns he's been investigating her, will she be able to forgive him a second time? 
Paperback
0721ML
---