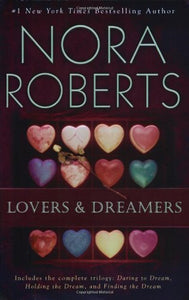 Lovers & Dreamers (Used Book) - Nora Roberts
The author who "weaves a story like no one else" (Rocky Mountain News) presents her dazzling trilogy of three women who shared a home and a c childhood-but grew to fulfill their own unique destinies.Includes the complete trilogy:

Daring to Dream
Amidst the grandeur of Templeton House, Margo, Kate, and Laura were brought up like sisters. But it is Margo, the housekeeper's daughter, whose dreams first take her far away on a magnificent journey full of risk and reward.

Holding the Dream
Kate knew she had something her friends Margo and Laura could never have--a shrewd head for business. But now, faced with professional impropriety, Kate is forced to look deep within herself.

Finding the Dream
Laura seemed to have it all. Beautiful and intelligent, there was nothing that could keep her from her dreams. Until fate took away the man she thought she loved.
Paperback
---