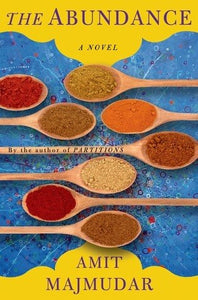 The Abundance -Amit Majmudar
When Mala and Ronak learn that their mother has only a few months to live, they are reluctantly pulled back into the midwestern world of their Indian immigrant parents--a diaspora of prosperous doctors and engineers who have successfully managed to keep faith with the old world while claiming the prizes of the new. More successfully than their children--equally ill at ease with Holi and Christmas, bhaji and barbecue, they are mysteries to their parents and themselves.

In the short time between diagnosis and deterioration, Mala sets about learning everything she can about her mother's art of Indian cooking. Perfecting the naan and the raita, the two confront their deepest divisions and failures and learn to speak as well as cook. But when Ronak hits upon the idea of selling their experience as a book and a TV documentary, India and America, immigrant and native-born are torn as never before.

With grace, acuity, and wry compassion, Amit Majmudar has written anew the immigrant experience, the clash of cultures, the conflicts of assimilation, and, most poignantly, the tangled ties between generations in The Abundance.
Hardcover
0104MMK
---