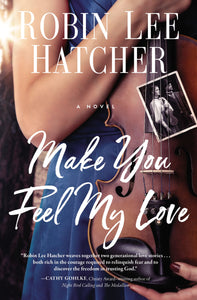 Make You Feel My Love (Used Paperback) - Robin Lee Hatcher
A century apart, two women start new lives—and two unlikely love stories prove powerful enough to conquer fear.

In 1895, Cora Anderson jumps on a cross-country train to escape New York society and her domineering father. She leaves with only some spare clothing, jewelry that once belonged to her grandmother, her cherished violin, and hopes for an uncertain future. The tiny town of Chickadee Creek is idyllic and welcoming, but it's only a matter of time before Cora's new friends discover the secrets of her past.

More than a hundred years later, Chelsea Spencer is fleeing a dangerous situation of her own when her great aunt's antique shop in Chickadee Creek becomes the perfect haven. At the same time, up-and-coming Hollywood star Liam Chandler has returned to the town of his ancestors to grieve some painful family losses and ponder the direction of his career.

When Chelsea discovers a beautiful violin among her aunt's antiques, she begins to wonder about its origins. In this heartwarming Idaho town, one precious instrument will connect Liam and Chelsea to each other and to loves long forgotten. There, the captivating history tells them the stories of how to walk by faith and live in God's perfect freedom.
0711ML
---