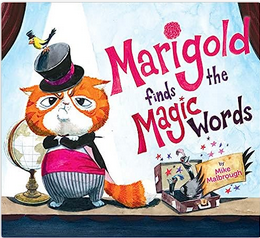 Marigold Finds The Magic Words (Used Hardcover) - Mike Malbrough
In his second starring role, Marigold, the fussy cat with a comically short fuse, sees his birthday party upended by a group of party-crashing birds, with hilarious results -- and a lesson in "please" and "thank you." For fans of the Don't Let the Pigeon series!


Marigold is throwing himself the most amazing birthday party ever! He's baked himself an enormous birthday cake and planned everything well in advance. Everyone is ready for something extraordinary. Something...magical!

But when Marigold tries to make a bouquet of flowers disappear, a pesky finch appears in its place. That's not right at all!

At every turn, Marigold's magic trick gets derailed until the distractions are too much to bear, and Marigold launches into a full-on feline frenzy, making everything--and everyone--disappear. What magic words can save the day?

Mike Malbrough has conjured yet another magical addition to the great tradition of interruption books. Perfect for fans of Mo Willems'
Don't Let the Pigeon Drive the Bus
and David Ezra Stein's
Interrupting Chicken
.
---