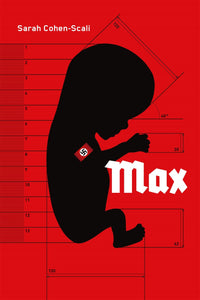 Max (Used Hardcover) - Sarah Cohen-Scali
Nazi Germany. 1936.
"I should have been born yesterday, but that's not what I wanted. The date didn't suit me. So I've stayed put. Motionless. Rigid. Of course that means a lot of pain for my mother, but she's a brave woman, and she's putting up with the delay without complaint. I'm sure she approves of my tactic.

"My wish, the first of my future life, is to come into the world on April 20. Because that's the Führer's birthday. If I'm born on April 20, I will be blessed by the Germanic gods and seen as the firstborn of the master race. The Aryan race will henceforth rule the world."

In the Lebensborn program, carefully selected German women are recruited by the Nazis to give birth to new members of the Aryan race. Inside one of these women is Max, literally counting the minutes until he is born and he can fulfill his destiny as the perfect Aryan specimen.

Max is taken away from his birth mother soon after he enters the world. Raised under the ideology and direction of the Nazi Party, he grows up without any family, without affection or tenderness, and he soon becomes the mascot of the program. That is until he meets Lukas, a young Jewish boy whom he knows he is meant to despise. Instead, the friendship that blossoms changes Max's world forever.
0720LO
---