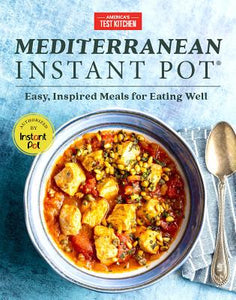 Mediterranean Instant Pot (Used Hardcover) - America's Test Kitchen
Bringing together the #1 diet and the #1 most popular kitchen appliance, this Instant Pot-authorized cookbook makes it more convenient than ever to cook the Mediterranean way, incorporating more vegetables, grains, beans, and seafood into your diet, and exploring the healthful, authentic flavors of cuisines ranging from Turkish to North African in everyday one-pot meals.

Made in the Instant Pot, succulent meals such as Chicken Tagine, Lamb Meatballs with Couscous, Pickled Onions and Tahini, Shrimp and Asparagus Risotto, and Gigante Bean Soup with Celery and Olives become hands-off affairs for the busy cook. The Instant Pot also takes the waiting game out of cooking dried beans and sturdy grains so it's easy to enjoy them more often. And vegetables get star billing, both as main dishes (Braised Whole Cauliflower with Tomatoes and North African Spices), and sides (Marinated Artichokes, and Baba Ganoush) Recipes embrace the tenets of the Mediterranean Diet Pyramid, translating its less-meat-and-more-vegetables approach into vibrant, healthy one-dish meals that take the guesswork out of balancing portions and multiple dishes. Most recipes are ready in under an hour. And full nutritional information is provided.
0905ML
---