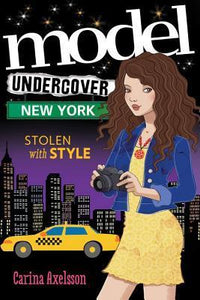 Model Undercover (Used Paperback) - Carina Axelsson
Unlock the secrets of the fashion world in this fun and breezy mystery.
When the world's most famous black diamond is stolen during a magazine cover shoot, it's up to undercover model Axelle Anderson to crack the case. The only witness is a trendsetting teen fashion blogger who refuses to say anything, and Axelle has a hunch that what appears to be a clear-cut case of jewelry theft is anything but.
Axelle and her sleuthing friends are drawn into a web of blackmail and backstabbing fashionistas. As she struts her way down the New York City runways and juggles her busy modeling schedule and new romance, Axelle must pit herself against a rival who'll stop at nothing to bring her down.
Model Under Cover, #2
0816LO
---