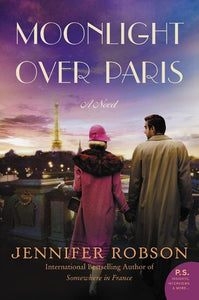 Moonlight Over Paris (Used Paperback) - Jennifer Robson
USA Today and internationally bestselling author Jennifer Robson takes readers to 1920s Paris in an enthralling new historical novel that tells the riveting story of an English lady who trades in her staid aristocratic life for the mesmerizing salons and the heady world of the Lost Generation.

It's the spring of 1924, and Lady Helena Montagu-Douglas-Parr has just arrived in France. On the mend after a near-fatal illness, she is ready to embrace the restless, heady allure of the City of Lights. Her parents have given her one year to live with her eccentric aunt in Paris and Helena means to make the most of her time. She's quickly drawn into the world of the Lost Generation and its circle of American expatriates, and with their encouragement, she finds the courage to pursue her dream of becoming an artist.

One of those expats is Sam Howard, a journalist working for the Chicago Tribune. Irascible, plain-spoken, and scarred by his experiences during the war, Sam is simply the most fascinating man she has ever met. He's also entirely unsuitable.

As Paris is born anew, rising phoenix-like from the ashes of the Great War, Helena realizes that she, too, is changing. The good girl she once was, so dutiful and obedient, so aware of her place in the world, is gone forever. Yet now that she has shed her old self, who will she become, and where, and with whom, does she belong…? 
0725ML
---