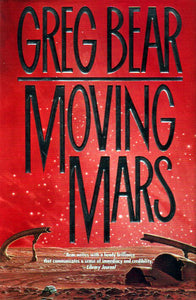 Moving Mars - Greg Bear (Signed, 1st Ed/1st Printing, 1993)
1st Edition and 1st Printing. Signed by Author. Published by Tor in 1993. 
Bear explores one very plausible scenario for the human colonization of Earth's neighboring planet. 
Queen of Angels, #3
Condition: Used book in Very Good condition. Plastic covering the dust jacket. 
Hardcover
0803DRH
---