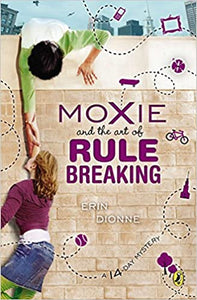 Moxie and the Art of Rule Breaking (Used Book) - Erin Dionne
"How could you say no to a book that's described as 'for fans of 
The Westing Game
and 
From the Mixed-up Files of Mrs. Basil E. Frankweiler
'
?"—The Atlantic Wire

Moxie Fleece knows the rules and follows them--that is, until the day she opens her front door to a mysterious stranger. Suddenly Moxie is involved in Boston's biggest unsolved mystery: The Isabella Stewart Gardner Museum art heist. Moxie has two weeks to find the art, otherwise she and the people she loves will be in big-time danger.
Her tools? Her best friend, Ollie, a geocaching addict who loves to find stuff; her Alzheimer's suffering grandfather, Grumps, who knows lots more than he lets on; and a geometry proof that she sets up to sort out the clues.
It's a race against the clock through downtown Boston as Moxie and Ollie break every rule she's ever lived by to find the art and save her family.
Hardcover (Like new)
0525JA
---