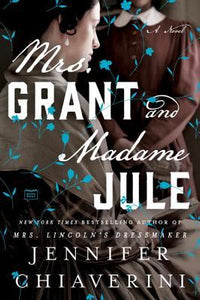 Mrs. Grant and Madame Jule (Used Book) - Jennifer Chiaverini
From New York Times Bestselling Author Jennifer Chiaverini, the first novel to chronicle the singular relationship between Julia Grant, beloved First Lady, and the courageous woman who was her slave and namesake.

In 1844, shy Missouri belle Julia Dent met Lieutenant Ulysses S. Grant, brilliant horseman and reluctant soldier. The two fell deeply in love, but Grant's abolitionist family refused to attend their wedding. For despite her husband's objections, Julia kept as her slave another Julia, known as Jule.
 
Since childhood they had been companions and confidantes. Julia was gifted with prophetic dreams, which Jule helped her interpret; Julia secretly taught Jule to read, while Jule became her vision-impaired mistress's eyes to the world. But as Grant rose through the ranks of the Union army during the Civil War, the stark distinctions between mistress and slave strained their unlikely friendship. Both women risked certain danger as they traveled to and from General Grant's military headquarters—until the signing of the Emancipation Proclamation inspired Jule to make a daring bid for freedom. 
Paperback
1206ML

---