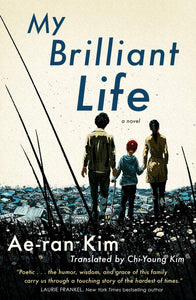 My Brilliant Life (Used Book) - Ae-ran Kim
"My Brilliant Life is a moving, earnest, and deeply-felt exploration of a unique family in all its joys and disappointments . . . an utter delight." —Claire Lombardo, New York Times bestselling author of The Most Fun We Ever Had

Despite being house-bound due to an accelerated-aging disorder, Areum lives life to its fullest, vicariously through the stories of his parents, conversations with Little Grandpa Jang—his sixty-year-old neighbor and best friend, and through the books he reads to visit the places he would otherwise never see.

For several months, Areum has been working on a manuscript, piecing together his parents' often embellished stories about his family and childhood. He hopes to present it on his birthday, as a final gift to his mom and dad; their own falling-in-love story.

As his seventeenth birthday approaches, Areum moves into the long-term ward in the city hospital, bringing abrupt change to his daily life; from a new friend who might be more—or less—than she seems, to his loving parents who are definitely keeping something from him. There are also the challenges of the creeping darkness in his eyes, and the loneliness of his shrinking connection to the world outside his window. Areum meets these situations head on, and with the support of family and friends, finds joy in even the most difficult times.

Interweaving the past and present of a tight-knit family, Ae-ran Kim's My Brilliant Life evokes the full breadth of human emotions; happiness and sadness, pain and relief, emptiness and significance; masterfully exploring the power of empathy.
Hardcover
0816ML
---