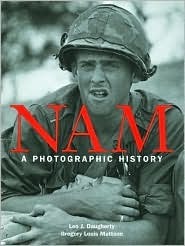 Nam: A Photographic History (Used Book) - Leo J. Daugherty III , Gregory Louis Mattson
The Vietnam War is without doubt one of the most significant events in the history of the United States. It remains the longest conflict ever fought by the U.S. armed forces and the longest war in modern history. More than 50,000 U.S. servicemen lost their lives during the struggle in Southeast Asia, but numbers alone cannot convey the impact of the war on the world's most powerful democracy. The tensions it created and the passions it unleashed threatened to tear the fabric of U.S. society and ultimately wrecked the political career of President Lyndon Johnson. The pernicious effect of the war on the U.S. armed forces would leave their reputation tarnished and sap their confidence, damage that would take years to repair.

NAM: A Photographic History is both a fascinating recapitulation of the war, exactly as the world experienced it, and an important work of reference for laymen and scholars alike.
Hardcover
0202RM
---