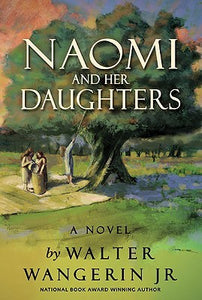 Naomi And Her Daughters - Walter Wangerin Jr.
From master storyteller Walter Wangerin, Jr. comes this familiar biblical saga told in a fresh, transfixing way. You'll feel you've never heard it before! Melding historical accuracy with imaginative detail, Wangerin uses the biblical books of Judges and Ruth to explore themes of love, faith, grief and community set against a backdrop of war and political instability.

The widow Naomi grieves the deaths of her two adult sons after the shocking murder of a beloved adopted daughter, while pondering her responsibilities toward her Moabite daughters-in-law. Ancient Israel is in chaos. When her daughter-in-law, Ruth, begs to return to Israel with Naomi, events are set in motion that will change the course of history.

But wait…this isn't the tame, flannel graph story you heard in Sunday School. In the tradition of Anita Diamant's The Red Tent and Elissa Elliott's Eve: A Novel of the First Woman, Wangerin imbues his tale with strong female characters and an earthy realism that gives the timeless Old Testament narrative so much power. You'll find echoes of contemporary issues throughout: deceit, heartbreak, loss, war, and, of course, the power of love. Naomi's combined strength and tenderness becomes the pivot upon which a nation turns; her decisions ultimately lead to the founding of the family lineage of Jesus Christ.

Breathtaking descriptions, shocking violence, and inspirational courage make this spellbinding novel by a beloved award-winning author a story you won't soon forget. It's the perfect novel for your book group, and a satisfying read for those who love thoughtful biblical fiction. 
Hardcover
0720ML
Hardcover
0720ML
---