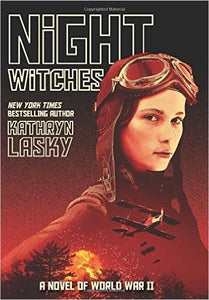 Night Witches (Used Paperback) - Kathryn Lasky
16-year-old Valya knows what it feels like to fly.

She's a pilot who's always felt more at home soaring through the sky than down on earth. But since the Germans surrounded Stalingrad, Valya's been forced to stay on the ground and watch her city crumble.

When her mother is killed during the siege, Valya is left with one burning desire: to join up with her older sister, a member of the famous and feared Night Witches — a regiment of female pilots who fly light planes through curtains of fire to bomb crucial targets.

Using all her wits, Valya manages to get past the German blockage and find the Night Witches' hidden base. That's when the real danger starts. The pilots have been assigned a critical mission, one with the power to inflict serious damage on the Nazis. Valya will give anything to fight for her country, but when the person she loves most goes missing, she must make a choice between duty and the deepest desires of her heart.
0720LO
---