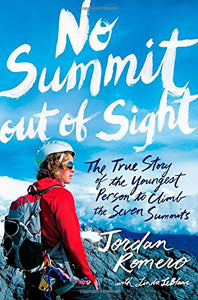 No Summit out of Sight: The True Story of the Youngest Person to Climb the Seven Summits (used book) - Jordan Romero
Jordan Romero climbed Mount Everest at age thirteen—and he didn't stop there. In this inspiring young adult memoir, he tells how he achieved such great heights.

On May 22, 2010, at the age of thirteen, American teenager Jordan Romero became the youngest person to climb to the summit of Mount Everest. At fifteen, he became the youngest person to reach the summits of the tallest mountains on each of the seven continents. In this energizing memoir for young adults, Jordan, now seventeen, recounts his experience, which started as a spark of an idea at the age of nine and, many years of training and hard work later, turned into a dream come true.
paperback
0920CR
---