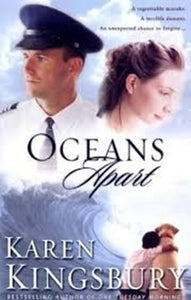 Oceans Apart (Used Book) - Karen Kingsbury
A forgotten secret.
A shocking discovery.
A sacrifice of love that will bring Connor Evans to his knees.

Airline Captain Connor Evans has nearly forgotten that stormy weekend in Hawaii eight years ago when he broke the greatest promise of all. Now Connor has the perfect life with his wife, Michele, and their two daughters, and the secret of that long-ago time is his alone.

But an ocean away, a flight attendant is raising her young son by herself when the plane she's working on crashes into the Pacific. Her will is very clear about one thing—before the child can be given over to the state, his father must be contacted.

The news rocks Captain Evans' life, and in the process he is presented with a choice: Refuse the child and never hear from him again, or take him for two weeks and decide whether to claim the boy as his own.

Now, the family is on the brink of destruction. Can Michele and their daughters ever forgive Connor for what went wrong all those years ago? Or will the presence of one lonely child destroy everything?
Paperback
0308kSG
---