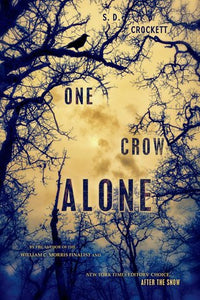 One Crow Alone - S.D. Crockett
"They say it's going to get worse. That it's not going to end."

The snow won't stop falling in this dangerous-new-world.

The long, bitter winters are getting worse, and a state of emergency has been declared across Europe. In Poland, the villagers are subject to frequent power cuts and fuel shortages. After the death of her grandmother and the evacuation of her village, fifteen-year-old Magda joins forces with the arrogant, handsome Ivan and smuggles her way onto a truck bound for London - where she hopes to find her mother. But London, when they reach it, is a nightmarish world, far from welcoming. Riots are commonplace and the growing chaos is exploited by criminals and terrorists alike. Magda's mother is not to be found, and as the lost girl struggles to come to terms with her changing situation, she eventually becomes friends with a rag-tag group of travellers planning a new home and future. They will need all the cunning and know-how they possess as they realise that the frozen wilderness of Britain has become just as lawless as the as the city. 
Hardcover 
1030LFM
---