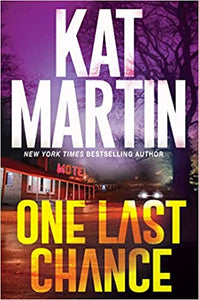 One Last Chance (Used Hardcover) - Kat Martin
Former Green Beret Edge Logan has made a new life for himself at Nighthawk Security in Denver, using his finely honed skills to neutralize threats of all kinds. When he overhears friend and fellow agent Skye Delaney discussing a new case involving her missing sister and a mysterious cult, he offers himself as backup. With her own military background, Skye is gutsy and more than capable, but a cult like Children of the Sun is too risky for anyone to investigate alone.

Skye is grateful for Edge's experience, even though she is aware of the attraction simmering between them. Her battle scars make her reluctant to get involved with anyone, much less a coworker—even a warrior like Edge. But infiltrating the cult's compound is more complicated than expected—and something much more sinister than worship is clearly going on behind its walls. As the pair works against the clock to unearth high-stakes secrets, the personal barriers between them begin to crumble. Together, can they unmask the face of evil before their time runs out?
0912SR
---