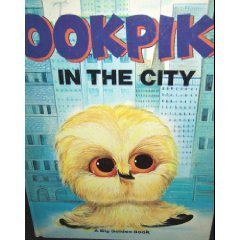 Ookpik in the City (Used Hardcover) - Barbara Shook Hazen (1968)
Published in 1968.
Ookpik is a little Artic owl with big, ogling eyes and a wish to see the world. When he gets homesick in New York City, and cries that he wants to go home. His new city friends find a way to get him back to the North Pole.
Condition: Used book in Very Good condition, price sticker on cover, slight wear on corners.
---