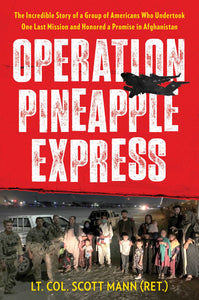 Operation Pineapple Express (Used Hardcover) -Lt. Col. Scott Mann (Ret.)
An edge-of-your-seat thriller about a group of retired Green Berets who come together to save a former comrade—and 500 other Afghans—being targeted by the Taliban in the chaos of America's withdrawal from Afghanistan.

In April, ABC News correspondent James Gordon Meek got an urgent call from a Special Forces operator serving overseas. The message: Get Nezam out of Afghanistan now. Nezam Nezami was part of the Afghan National Army's first group of American-trained commandos. He passed through Fort Bragg's legendary Q course and served alongside the US Special Forces for over a decade. But Afghanistan's government and army are collapsing, and Nezam is getting threatening texts from the Taliban. James knows he must do whatever it takes to save his friend. He gets in touch with Nezam's former commanding officer, retired Lt.-Col. Scott Mann, who can't face the idea of losing another soldier in the long War on Terror. He sends out an SOS to a group of Afghan vets (Navy SEALs, Green Berets, CIA officers, USAID advisors). They all answer the call for one last mission.

Operating out of basements and garages, Task Force Pineapple organizes an escape route for Nezam and gets him into hiding in Taliban-controlled Kabul. After many tense days, he braves the enemy checkpoints and the crowds of thousands blocking the airport gates. He finally makes it through the wire and into the American-held airport thanks to the frantic efforts of the Pineapple express, a relentless Congressional aide, and a US embassy official. Nezam is safe, but calls are coming in from all directions requesting help for other Afghan soldiers, interpreters, and at-risk women and children. Task Force Pineapple begins all over again and ends up rescuing 500 more Afghans from Kabul in the three chaotic days before the ISIS-K suicide bombing. The Last Mission is a thrilling, suspenseful tale of service and loyalty amidst the chaos of the US withdrawal from Afghanistan.
0313WS
---