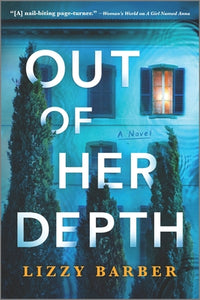 Out of Her Depth (Used Book) - Lizzy Barber
There are summers that will change your life.There are summers that may end it.
In the lush green hills beyond Florence sits the Villa Medici—a graceful 
pensione
 surrounded by manicured gardens. Rachel, a college student from an unfashionable London suburb, can't believe her luck in landing a summer job here. Especially when she's drawn into a circle of privileged young sophisticates, including her glamorous coworker Diana, who promises to help Rachel win the affections of handsome, confident Sebastian.
But as champagne flows and rivalries fester in the Tuscan countryside, Rachel realizes that Diana has motivations of her own. Adrift in a world of backstabbing and bed-hopping, lavish parties and easy betrayal, Rachel feels the stakes rising along with the temperature until, one night, something snaps. Someone dies. And nothing will ever be the same…
---