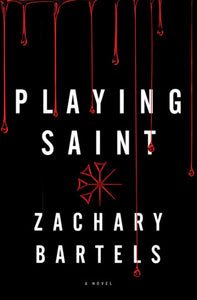 Playing Saint - Zachary Bartels
Rising mega-pastor Parker Saint was wrapped up in his ratings and his book deal. But that was before the cops and the serial killer, the Vatican operatives, and the centuries-old plot to conceal an ancient relic. Now he's just trying to stay alive.

Parker Saint is an up-and-coming superstar pastor on the verge of achieving everything he's wanted--including a national TV program and major book deal. His success seems all but guaranteed until an angry incident with a flight attendant. To keep his growing empire from collapsing, Parker cuts a deal and agrees to serve as a police consultant on the trail of a twisted serial killer who marks his victims with religious symbols. The problem is, Parker's anything but an expert, faking his way through the investigation by slipping away to consult his smart phone.

As he is drawn deeper into a web of intrigue involving an obsessive and demanding detective, a trio of relentless Vatican operatives, a string of botched exorcisms, and a centuries-old conspiracy to conceal a mysterious relic, Parker finds himself questioning everything he has been trying so hard to protect.

Building to an intense climax, "Playing Saint" is a timely exploration of what compels us, what defines us, and what redeems us. With its combination of suspense, humor, and intriguing characters, it will captivate readers until the final twist.
Paperback
0907SR
---