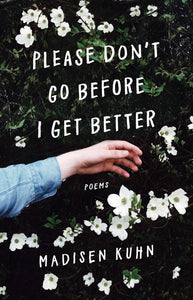 Please Don't Go Before I Get Better (Used Book) - Madisen Kuhn

Following her breakout debut Eighteen Years, poet Madisen Kuhn is thrilled to share this intimate portrait of a young woman navigating early adulthood and leaving her teenage years behind.

Chronicling the complexities, joys, and challenges of this transitional phase of life, Please Don't Go Before I Get Better is a powerful, deeply affecting work that pierces your heart with its refreshing candor and vulnerability. A poignant exploration of self-image, self-discovery, and self-reflection, this anthology brilliantly captures the universal experience of growing up, and you are bound to find yourself reflected in these glimmering pages.
Paperback
0302xBC
---