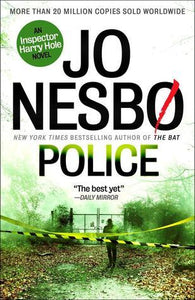 Police (Used Paperback) - Jo Nesbo
Finalist -- GoodReads Choice Award -- Mystery/Thriller
Harry Hole returns--or does he?--in a terrifyingly paced, vertiginous new roller coaster of a thriller by the internationally best-selling author of The Snowman and The Redeemer, "the king of Scandinavian crime fiction" (Kirkus).
The police urgently need Harry Hole . . . A killer is stalking Oslo's streets. Police officers are being slain at the scenes of crimes they once investigated but failed to solve. The murders are brutal, the media reaction hysterical.
But this time, Harry can't help . . . For years, detective Harry Hole has been at the center of every major criminal investigation in Oslo. His dedication to his job and his brilliant insights have saved the lives of countless people. But now, with those he loves most facing terrible danger, Harry is not in a position to protect anyone.
Least of all himself . . . "From the Hardcover edition."
0606SR
---