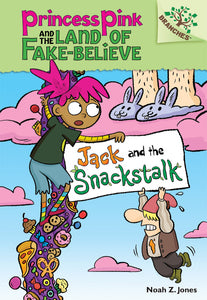 Princess Pink and the Land of Fake-Believe #4: Jack and the Snackstalk (Used Paperback) -Noah Z. Jones
This series is part of Scholastic's early chapter book line called Branches, which is aimed at newly independent readers. With easy-to-read text, high-interest content, fast-paced plots, and illustrations on every page, these books will boost reading confidence and stamina. Branches books help readers grow!


Princess heads to Moldylocks's house for movie night. Moldy's cousin Jack comes, too. He brings pink jelly beans for a snack. But Princess doesn't like pink, so she throws the jelly beans out the window. Soon, the beans sprout into a huge pillar of snacks! The three friends climb up the snackstalk and find themselves in Snackland! It is filled with pizza-roll hills, nacho-cheese rivers, and there's even a golden egg roll in a snack-filled castle! The problem is there's also a GIANT in that castle! Will Princess and her friends ever escape Snackland?
0616CM
---