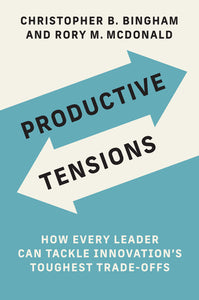 Productive Tensions: How Every Leader Can Tackle Innovation's Toughest Trade-Offs (Used Book) - Christopher B. Bingham and Rory M. McDonald
How leaders can recast innovation's toughest trade-offs--efficiency vs. flexibility, consistency vs. change, product vs purpose--as productive tensions.

Why is leading innovation in today's dynamic business environment so distressingly hit-or-miss? More than 90 percent of high-potential ventures don't reach their projected targets. Surveys show that 80 percent of executives consider innovation crucial to their growth strategy, but only 6 percent are satisfied with their innovation performance. Should leaders aim for Steve Jobs-level genius, shower their projects with resources, or lean in to luck and embrace uncertainty? None of the above, say Christopher Bingham and Rory McDonald.

Drawing on cutting-edge research and probing interviews with hundreds of leaders across three continents, in Productive Tensions Bingham and McDonald find that the most effective leaders and successful innovators embrace the tensions that arise from competing aims: efficiency or flexibility? consistency or change? product or purpose? Bingham and McDonald spotlight eight critical tensions that every innovator must master, and they spell out, with dozens of detailed examples of both success and failure, how to navigate them. 
Hardcover
0720LO
---