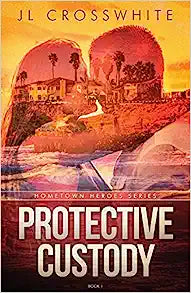 Protective Custody (Used Paperback) - J. L. Crosswhite
Play-it-safe magazine editor Heather McAlistair is in the wrong place at the wrong time. But doing the right thing may cost her everything. Including her life.

Detective Kyle Taylor is investigating a case that threatens to break his career. He can't even go on a date without crime haunting him and the woman who's captured his heart.  
With more than their future at risk, they must discern betrayal from trust, image from truth. And stay alive while they're at it. 
Protective Custody is the first book in the Hometown Heroes series. You will love this Christian romantic suspense because no one can resist a great nail-biting page turner. 
0613SR
---