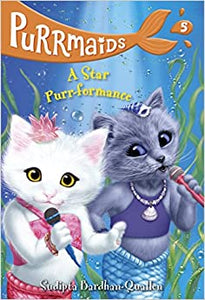 Purrmaids a Star Purr-formance (Used Paperback) - Sudipta Bardhan-Quallen
The adorable mermaid-kittens in this chapter book series are ready to sing on stage--fans of the Magic Kitten and the Fairy Animals series will be paw-sitively hooked from page one!

It's a special day in Kittentail Cove! Purrmaids have a chance to sing in front of the whole town. Shelly can't wait to try out. Especially once she hears this year's surprise guest. The winning purrmaids get to sing with famous pop star Kelpy Sharkson! There's just one problem. Shelly thinks practice makes purr-fect, but her friends get tired of singing all day. Can the purrmaids find a way to work hard and have fun?
Purrmaids # 5
0806JA

---