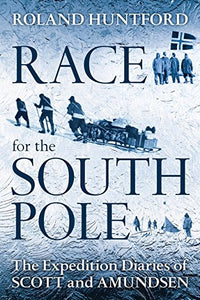 Race for the South Pole: (Used Book) - Roland Huntford
In 1910 Robert Falcon Scott and Roald Amundsen set sail for Antarctica, each from his own starting point, and the epic race for the South Pole was on. December 2011 marks the centenary of the conclusion to the last great race of terrestrial discovery.

For the first time Scott's unedited diaries run alongside those of both Amundsen and Olav Bjaaland, never before translated into English. Cutting through the welter of controversy to the events at the heart of the story, Huntford weaves the narrative from the protagonists' accounts of their own fate. What emerges is a whole new understanding of what really happened on the ice and the definitive account of the Race for the South Pole. 
Paperback
0120WS
---