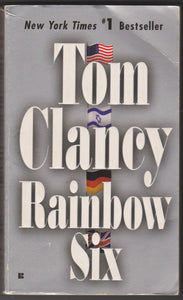 Rainbow Six (Used Book) - Tom Clancy
Over the course of nine novels, 
Tom Clancy
's "genius for big, compelling plots" and his "natural narrative gift" (
The New York Times Magazine
) have mesmerized hundreds of millions of readers and established him as one of the preeminent storytellers of our time. 
Rainbow Six
, however, goes beyond anything he has done before.
At its heart is John Clark, the ex-Navy SEAL of Without Remorse, well known from several of Clancy's novels as a master of secret operational missions. Whether hunting warlords in Japan, druglords in Colombia, or nuclear terrorists in the United States, Clark is efficient and deadly, but even he has ghosts in his past, demons that must be exorcised. And nothing is more demonic than the peril he must face in Rainbow Six.
Newly named the head of an international task force dedicated to combating terrorism, Clark is looking forward to getting his teeth into a new mission, but the opportunities start coming thicker and faster than anyone could have expected: an incident at a Swiss bank, the kidnapping of an international trader in Germany, a terrible raid on an amusement park in Spain.
Each episode seems separate, discrete, yet the timing disturbs Clark. Is there a connection? Is he being tested? With the help of his close associates, executive officer Alistair Stanley and strike team leaders Domingo Chavez and Peter Covington, Clark tries to figure out where all this activity is heading, but there is no way to predict the real threat: a group of terrorists like none the world has ever encountered, a band of men and women so extreme that their success could literally mean the end of life on Earth as we know it.
Paperback
---