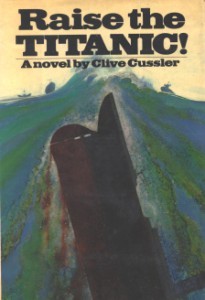 Raise the Titanic - Clive Cussler (BCE, 1976)
Book Club Edition. Published in 1976 by Viking Press. 
The President's secret task force has developed an unprecedented defensive weapon that relies on an extremely rare radioactive element--and Dirk Pitt has followed a twisted trail to a secret cache of the substance. Now, racing against brutal storms, Soviet spies, and a ticking clock, Pitt begins his most thrilling mission--to raise from its watery grave the shipwreck of the century... 
Dirk Pitt, #4
Hardcover
0701DRH
---