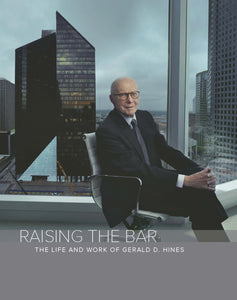 Raising The Bar: The Life and Work of Gerald D. Hines (Used Hardcover) - Mark Seal
Gerald D. Hines stands at the top of the international real estate investment and development world. A Purdue graduate with a degree in engineering, Hines may have arrived in Houston in 1948 for a nine-to-five job at a heating and air conditioning company, but before long he was making the deals that would transform Houston's skyline. Later, with his revolutionary idea that great architecture was good business, he was reshaping the skylines of the world. Today, Hines is a respected global organization with a presence in 20 countries that has developed, redeveloped or acquired more than 1,100 properties..

Raising the The Life and Work of Gerald D. Hines tracks one man's incredible rise, from building small office/warehouses to manifesting Houston icons like The Galleria, One Shell Plaza, and Pennzoil Place to cultivating the national and then global expansion of his company. It paints the portrait of a man who himself is a study in a child of the Depression and a citizen of the world; an engineer who still carries the slide rule that has guided his career yet commissions daring feats of art and architecture; a reserved and humble man in a field known for being brash and aggressive who takes on physical challenges with wild abandon. With enlivening anecdotes and revealing characterizations, Raising the Bar reveals the man behind the premier real estate company in the world like never before.
Condition: Used book in Very Good condition, sticker on back cover.
---