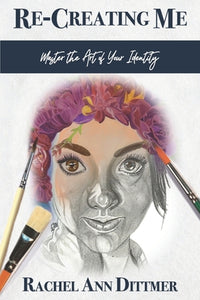 Re-Creating Me (Used Book) - Rachel Ann Ditmer
Creative entrepreneur, suicide attempt survivor, and homeschooling mom to five, Rachel Ann Dittmer shares her artistic, healing journey to wholeness, mastering one's identity, breaking free from codependency, and the process one can take to deconstruct and rebuild a life that revives them.

For as long as Rachel could remember, she wanted to be a wife and mom and the Proverbs 31 woman in order to please God after He miraculously healed her broken collarbone at the age of four. On the surface, she was living the life of her dreams. Yet, deep down she was incredibly unhappy. She felt abandoned by God, unknown and unloved in her marriage, and unseen in motherhood as she tried to fill all the roles and expectations placed upon her. At her lowest, she tried to take her life. Through the steps she took in reclaiming her own identity, God worked His magic not only in her own life, but in her marriage, and other relationships as well, and freed her from those things that kept her spirit and creativity bound that she shares in her book, Re-Creating Me.

In her transparent, vulnerable style, Rachel has written a powerful book that can transform your life, marriage, motherhood, and relationship with God. She is on a mission to help women be whole and free, and create a life and environment that revives them. Re-Creating Me will help women figure out who they are, Whose they are, why they're here, and empower them to make the choice to become co-creators in the spaces and lives of those around them, rather than victims of circumstance or products of their environment. 
Paperback
1116WS
---