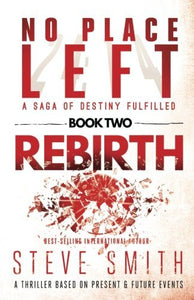 Rebirth: No Place Left (Used Paperback) - Steve Smith
CHRISTOPHER OWEN LIMPS FROM HIS DEATHBED
, intent on completing the quest Jesus began. Surrounded by martyrdom, lawsuits, and public outcry, his ragtag team inspires a viral movement to finish the RACE others started--
No Place Left
 by A.D. 2025 for the gospel to be proclaimed.
But as movements spread, the ruthless leader of a centuries-old conspiracy hunts Christopher and his teams from country to country. Weary of growing global chaos and terrorism, the nations of the world applaud Michael Wroth's efforts and flock to his vision of a Rebirth.
In the midst of this showdown, cataclysmic events rock the globe to its core. Doubts assail God's people as BETRAYAL, TORTURE AND MARTYRDOM REVEAL THE COST of crossing the finish line and welcoming the return of the True King.
THEY HAVE THE RESOURCES,
BUT DO THEY HAVE THE RESOLVE?
WILL THEIRS BE THE FINAL LAP?
Inspired by current and future events, 
REBIRTH
 is the finale of the two-part NO PLACE LEFT saga. 
Rebirth
 paints a picture of the glory of God and the cost to be paid by the last-lap generation. It will leave you speechless on your knees before the King. NO PLACE LEFT offers you a glimpse of your destiny in a growing movement.
---