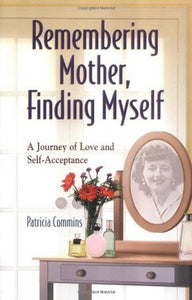 Remembering Mother, Finding Myself: A Journey of Love and Self-Acceptance (Used Book) - Patricia Commins
The loss of a mother is one of the most traumatic experiences of a woman's life. At any age, a mother's death may leave a daughter with feelings of anger, abandonment and profound sadness that taint the way she views herself, her world and every other relationship around her. In this breakthrough book, author Patricia Commins, who lost her mother at 26, shows readers that the key to escaping the sorority of sorrow is by understanding their mothers as women and by feeling an ongoing connection with them.

From this perspective —outside the parent-child relationship that is so fraught with conflict and complex emotions — women gain key insights into their mothers and themselves. By addressing the psychological and spiritual connection that remains after a mother's death, Remembering Mother, Finding Myself offers the essential element that is missing from other books on motherless daughters. The Path of Understanding —a unique experiential process based on journaling, conversations with friends and relatives, and meditative exercises— does not seek to negate the loss a woman feels when her mother dies. It instead gently leads her beyond the grief and pain to a new awareness, freeing her from forever trying to be the perfect daughter.

Through her own illuminating experiences and those of other women, Commins shows women how to reconnect their deceased mothers while finding peace and self-acceptance. Included are interviews with dozens of women, including such notables as writers Joyce Maynard and Nancy Friday and psychiatrist Elizabeth Kubler-Ross.
Paperback
---