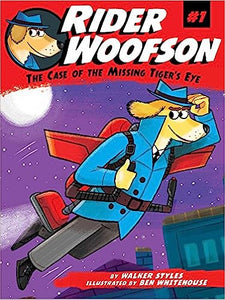 Rider Woofson The Case of the Missing Tiger's Eye (Used Paperback) - Walker Styles
Meet Rider Woofson, a dog detective with a nose for finding clues and trouble. Along with his pack of canine investigators, those pups are always on a hunt to collar criminals in a brand-new mystery series.

Welcome to Pawston, the animal capital of the world. Every day, thousands of animals go about their business, behaving as good citizens should. But there's a darker side of Pawston known as the criminal underbelly. And it was not the kind of belly you wanted to scratch unless you wanted to get bitten!

That's where Rider Woofson—the best dog detective in Pawston—comes in. And with the help of his pals in the Pup Investigators Pack, the criminals won't stand a chance…even if they commit the purr-fect crime.

With easy-to-read language and illustrations on almost every page, the Rider Woofson chapter books are perfect for beginning readers!
# 1
0731JA
---